Of Obliteration and Construction | عن المحو والإنشاء
Translated by: Yasmine Haj
Project Description: Excerpts from "Of Obliteration and Construction", a study by Honaida Ghanim which explores the policy adopted by the Zionist movement and later Israel in the process of dispossessing Palestinians and expelling them from their homeland, both systematically and intentionally. Ghanim uses the concept of "obliteration" to describe this process, which Ghanim also contextualizes biblically: the curse of "may his name and memory be obliterated". The article, originally published in Arabic in the 96th Issue of Palestine Studies, was translated by Yasmine Haj into English (forthcoming).
Translated Text:
The curse of "Yimah Shemo Ve Zikhro," which literally means, "may his name and memory be obliterated," could be one of the cruellest curses in the Hebrew language. It is mainly placed upon mortal non-Jewish (goy) enemies; to place it upon a Jewish traitor would require a religious legal judgment. According to some historians, the etymology of this curse goes back to Purim, an annual celebration the Jewish people held to commemorate their deliverance from a conspiracy of obliteration, plotted against them by Haman in the Ancient Persian Empire. The curse is placed each time his name is mentioned. Later on, the curse would be placed on all enemies of the Jewish people, and even on Jews who worked against the interest of their own people.

The power and intensity of this curse lie within the duality it aims to achieve upon placement: the obliteration of both name and memory: the sayings "may you die," "may God take you," or even "may your name be obliterated," cannot be equated with "may your name and memory be obliterated." It wishes not only the name to be erased, but also its mention, along with its memory and remembrance. A person devoid of a name will be a nobody, but a person devoid of both name and mention will not be: Hokus Pokus, the curser places his curse and turns the cursed into a void.

Original Text:
قد تكون لعنة "يماح شمو فزخرو"، والتي تعني حرفياً "ليُمحَ اسمه وذكره"، إحدى أشد اللعنات قسوة في اللغة العبرية، إذ لا تُطلق في العادة إلاّ على ألدّ أعداء الشعب اليهودي من الأغيار، بينما يتطلب إطلاقها على اليهودي/ ة الذي تُنسب إليه تهم كبرى كالخيانة القومية، فتوى دينية. ويعود استخدام هذه اللعنة، كما يعتقد بعض المؤرخين، إلى احتفال عيد المساخر الذي يحتفل فيه اليهود سنوياً بالنجاة من مؤامرة الإبادة التي حاك خيوطها هامان في إمبراطورية فارس القديمة، إذ تُذكر اللعنة في كل مرة يأتي ذكر هامان. ولاحقاً صارت اللعنة تُطلق على جميع أعداء الشعب، بل على اليهود الذين يعملون ضد مصلحة الشعب.
وتكمن قوة اللعنة هذه وشدّتها في متلازمة المفعول المزدوج الذي تريد أن تحققه بمجرد إطلاقها، وهو محو الاسم والذكر معاً. فالقول: "لتمت"، أو "ليأخذك الله"،
أو حتى "ليُمحَ اسمك"، لا يستوي مع القول: "ليُمحَ اسمك وذكرك"، إذ ليس الاسم وحده ما يراد محوه، بل "الذكر" على ما يستدعيه طبعاً من ذاكرة وتذكّر وذكريات. فالشخص بلا اسم "يكون" نكرة، أمّا بلا اسم وبلا ذكر ف "لا يكون": "أبراكادابرا" يرمي اللاعِن لعنته على الشيء فيحيله إلى فراغ.

Links:
http://www.palestine-studies.org/sites/default/files/mdf-articles/11856.pdf

http://www.palestine-studies.org/ar/mdf/abstract/89706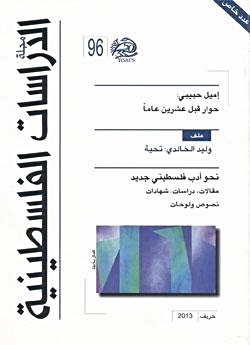 Palestine Studies, Issue 96