The Struggle is Patriarchal | النّضال ذكوري
Translated by: Yasmine Haj
Project Description: Excerpt from "The Struggle is Patriarchal", a piece written by Najlaa Eltom which describes the levels of struggle women in general and in Sudan experience and how they navigate the often patriarchal political and social movements around and within them. The text was published in its English translation from Arabic on Specimen, an entirely multilingual web-magazine, which through translation gives voice to the multifaceted world. (2018)
Translated Text (excerpt):
Inside and around the city, I saw war spread over women's faces. Areas of operation there, blood-thirsty fronts here, a normal vicious war there, and life's ever-devouring inferno. In a region consumed by the passage of centuries, there wasn't much for the war to ruin. And as men came back with damaged brains, women would continue facing the war life waged on a daily basis. There was economic downturn; off went the cotton projects and precarious stability they provided, having weakened the traditional infrastructure; off went unionised and civil activism; off went the men to war; and women were left to fight off destitution on their own.
Original Text (excerpt):
في طوافي في المدينة وما حولها رأيت الحرب في وجوه النساء. ها هي مناطق العمليات، ها هي الجبهة الأكول، حرب شرسة عادية، وأتون الحياة يأكل بنهم. في اقليم مستنزف منذ قرون لم يكن هناك الكثير لتقضي عليه الحرب. و بينما عاد الرجال مخربي العقول ظلت النساء في مواجهة حرب الحياة على نحو يومي. توقفت عجلة الاقتصاد، ذهبت مشاريع القطن والاستقرار الهش الذي صاحبها بعدما أفقرت البنية التقليدية، ذهب الحراك النقابي والمدني، ذهب الرجال إلى الحرب، وظل على النساء مكافحة الشظف بدون نصير.
Links:
English text:
http://www.specimen.press/articles/%D8%A7%D9%84%D9%86%D8%B6%D8%A7%D9%84-%D8%B0%D9%83%D9%88%D8%B1%D9%8A/?language=English
Arabic text:
http://www.specimen.press/articles/%D8%A7%D9%84%D9%86%D8%B6%D8%A7%D9%84-%D8%B0%D9%83%D9%88%D8%B1%D9%8A/
Ziad Doueiri's Insult | "قضيّة رقم ٢٣"
Translated by: Yasmine Haj
Project Description: Excerpt from "'Ziad Doueiri's Insult, or How to Hate Palestinians", an article written by Saleem Albeik, which reviews Ziad Doueiri's latest and Oscars-nominated film The Insult and critiques its ahistoricity, de-contextualised representation of Palestinians, and character manipulation. The article, originally published in Arabic on Al Quds Al-Arabi, was translated into English by Yasmine Haj, and published on Dalaala's Blog. (2018)
Translated Text (excerpt):
Such detour is not offered for free, however. It functions as the viewers' "bait", to deter them from maintaining any aversion to Tony who appears as the bad guy in the first half of the film. The film "baits" in the sense of making its viewers hate Tony for many but completely individual reasons, and which do not extend beyond his individual self. Then, once the film overturns its characters and the good guy/bad guy formula is inversed, transforming one into the other, though now in the collective sense, the viewers who were first averse to Tony then sympathised with him would falter before revisiting their aversion – for they have already tried it in the first half of the film and reconsidered it in the second. They give it up upon realising the politico-historical background to the insult/case, dragging this empathy into a historical event that makes the viewers reassess Tony. They do so now, however, while viewing him as part of a collective that had been through a massacre; which justifies his individual behaviour. Tony's behaviour is justified by depicting the collective "catastrophe" to which he was exposed, ultimately leading the viewers to empathise with him. Likewise, upon further examination, the behaviour of the collective itself in committing massacres that preceded and followed the Damour's is simultaneously justified.
Original Text (excerpt):
لكن ليست هذه اللفة مجانيّة، فالغاية منها هو "تطعيم" المُشاهد ضد النّفور من طوني الذي بان كشرير في النصف الأول من الفيلم. "تطعيمه" بمعنى أن يكرّه الفيلمُ المُشاهدَ بطوني لأسباب عدّة إنّما فرديّة بحتة، لا تتعداه، ثمّ، حين يلتفّ الفيلم على شخصياته وتنقلب معادلة الشرير/الخيّر ليصير كل واحد منهما الآخر إنّما بالمعنى الجمعي، يصعب على المُشاهد الذي نفر من طوني أولاً ثمّ تعاطف معه، أن يعود لينفر منه ثانياً بعدما جرّب ذلك في النصف الأول من الفيلم وتنازل عنه حين أدرك خلفيات الإهانة/القضية وهي سياسية تاريخية تجرّ هذا التعاطف إلى حدث تاريخي يجعل المُشاهد يعيد استيعابه لطوني إنّما كجزء من جماعة تعرّضت لمجزرة، فيكون، كجزء من هذه الجماعة، مبَرَّراً له سلوكه كفرد، وذلك بتبيان "المصيبة" الجمعية التي تعرّض لها، والتي تبرر سلوكه، والتي تجرّ أخيراً للتعاطف معه، والتي، بحسابات أبعد، تبرّر سلوك الجماعة ذاتها بارتكابات لمجازر سبقت الدامور ولحقتها.
Links:
English text: http://www.dalaala.com/blog/ziaddoueirisinsult
Arabic text: http://www.alquds.co.uk/?p=872901
A Letter from Gaza | ورقة من غزّة
Translated by: Yasmine Haj
Project Description: Excerpt from "A Letter from Gaza", a piece written by Mahmoud Omar which imagines a letter written from a future Gaza, liberated and free from current troubles and Israeli occupation. The letter was published in both Arabic and its English translation on Specimen, an entirely multilingual web-magazine, which through translation gives voice to the multifaceted world. (2017)
Translated Text (excerpt):
You know, everything has changed, even we have changed, and our problems are not related to power struggles anymore, or to suppressive policies. Ours are of the type that require a dim light, a shrink, and a comfy couch.
.
.
.
Everything has changed my friend but the sound of the sea hasn't. I write to you with its voice coming from the bar window, gentle and spun like rugs. I write to you a line and take a look at the sea. I gaze and grasp my memory and squeeze it as my grandmother would do the mop, trying to rebuild scenes that have long past. I go for instance into summoning that morning when I came with my cousins five years ago to swim at five at dawn. The sea stretched out before us like a mirror. The water was clear and so were we. There were others on the beach. A bunch of Hamas personnel. Do you remember Hamas?
Original Text (excerpt):
أتعرف؟ تغيّر كل شيء، حتى نحن تغيّرنا ولم تعد مشاكلنا على صلة وثيقة بحسابات القوة وسياسات الاخضاع. صارت مشاكلنا من النوع الذي يتطلّب إضاءة خافتة وطبيباً نفسياً وأريكة مريحة.
.
.
.
تغيّر كل شيء يا صديقي لكنّ صوت البحر لم يتغيّر. أكتب لك وصوته يأتي من نافذة البار حنوناً ومغزولاً كالسجّاد. أكتب لك سطراً وألقي على البحر نظرة. أسرح وأمسك بذاكرتي وأعصرها كما كانت تفعل جدّتي بممسحة البلاط محاولاً أن أعيد بناء المشاهد التي ولّت. أشرع مثلاً في استحضار ذلك الصباح الذي جئت فيه مع أولاد عمّي قبل خمسة عقود لنسبح في الخامسة فجراً. امتدّ البحر أمامنا كالمرآة. كان الماء صافياً وكذلك كنَّا. كان ثمّة آخرون على الشاطئ. مجموعة من كوادر حماس. هل تتذكر حماس؟
Links:
English text:
http://www.specimen.press/articles/%D9%88%D8%B1%D9%82%D8%A9-%D9%85%D9%86-%D8%BA%D8%B2%D8%A9-2054/?language=English
Arabic text:
http://www.specimen.press/articles/%D9%88%D8%B1%D9%82%D8%A9-%D9%85%D9%86-%D8%BA%D8%B2%D8%A9-2054/
On the Politicisation of Hummus and Falafel | عن تسييس الحمّص والفلافل
Translated by: Yasmine Haj
Project Description: Excerpt from "Embracing and Dissociation: On the Politicisation of Hummus and Falafel", an article written by Fayid Badarni which explores the policies of embracing and dissociation adopted by the Zionist state towards popular Palestinian dishes, specifically falafel and hummus. Its aim is to urge the "Palestinianisation" of both discourse and awareness of daily and mundane particularities in regards to cultural and cuisine appropriation. The article, originally published in Arabic on Fusha e-zine, was translated into English by Yasmine Haj, and published on Dalaala's Blog. (2017)
Links: * http://www.dalaala.com/blog/politicisation-of-hummus-and-falafel
* Article in Arabic on Fusha's e-zine
Translated Text (excerpt):

On the Politicisation of Hummus and Falafel
Hummus and falafel are exemplary of Israel's approach towards hegemonising their symbolism and rendering them a folkloric element of a newly established state; a "national" and economic investment is thus made in it, both locally and internationally. We are witnessing increased development in Israeli practices towards Palestinian cuisine, cuisine colonialism and cuisine imperialism, both of which comprise a process of "embracing" and dismantling.
"Embracing" manifests in adopting the Arabic nomenclature of those two dishes without adaptation – "hummus" and "falafel" – away from a warped discourse (which was the case in the elimination of homemade and handmade local Arabic cheese). This "embrace" is a smart and nice form of hegemony which could create for some a naïve feeling of innocence in making peace with it.
Simultaneously, there are processes of dissociating local handmade products, which take place through the deconstruction of hummus and falafel eating rituals, in addition to intensive commercial invasion of Arabic houses and restaurants. Their majority had turned to consuming commercial hummus at the expense of the local, without noticing that dissociation, whose core is suffocating the chickpea agricultural sector. Moreover, the imperial practice towards these two dishes on an international level is prone to controlling meanings and producing misinformation around their identity.
Original Text (excerpt):
عن تسييس الحمّص والفلافل
الحمّص والفلافل يمثًلان نموذجًا لتوجّه إسرائيل نحو الهيمنة على رمزيّتهما وتحويلهما إلى عنصر فولكلوريّ لدولة حديثة، فيُستثمر "قوميًّا" واقتصاديًّا على المستويين المحلّيّ والعالميّ. ونحن نشهد تطوّرًا مستمرًّا في الممارسة الإسرائيليّة تجاه المطبخ الفلسطينيّ، استعماريّة (Cuisine Colonialism) وإمبرياليّة (Cuisine Imperialism)، وفي الحالتين ثمّة عمليّتا "احتضان" وتفكيك.
يتمثّل "الاحتضان" باعتماد التسمية العربيّة دون تغييرها لهاتين الأكلتين، "حمّص" و"فلال"، من دون خطاب تشويهيّ كما حدث في حالة إقصاء الجبنة العربيّة البلديّة التي تُصنع بيتيًّا ويدويًّا. وهذا "الاحتضان" شكل ذكيّ ولطيف للهيمنة، وقد يخلق لدى البعض شعورًا ساذجًا وبريئًا بالتصالح معه.
وفي المقابل، ثمّة عمليّات تفكيك للمنتوج المحلّيّ اليدويّ، من خلال تفكيك طقوس تناول الحمّص والفلافل، بالإضافة إلى الغزو التجاريّ المكثّف للبيوت والمطاعم العربيّة، التي أضحت بغالبيّتها تستهلك الحمّص التجاريّ على حساب البلديّ، من دون الالتفات إلى هذا التفكيك، وعلى رأسه خنق قطاع الحمّص الزراعيّ. كما أنّ الممارسة الإمبرياليّة تجاه هاتين الأكلتين، على المستوى العالميّ، من شأنها أن تتحكّم بالمعاني وتنتج معرفة مضلّلة حول هويّتهما.
Two poems by Asmaa Azaizeh | قصيدتان لأسماء عزايزة
Translated by: Yasmine Haj
Project Description: Excerpts from the translation of two poems by Asmaa Azaizeh, published in Asymptote journal, a premier site for world literature in translation, and winner of the 2015 London Book Fair's International Literary Translation Initiative Award. (2017)
Links: http://www.asymptotejournal.com/poetry/asmaa-azaizeh-two-poems/
Translated Texts (excerpts):

Do Not Believe Me Were I to Talk to You of War

The first cheque:
In an obscure crowd, an obscene clarity dawns on me.
In the midst of the exquisite engineering of geography's tumult, a bullet quietly passes through me, at my lower back,
The crowd's mystery grows and my ears' windows are shut from within. The hole is as fresh as a spring, the blood is as warm as my mother's voice in a song and as smooth as my father's skin.

The second cheque:
I was besieged in the world's holiest spot . . . Bullets rained down on me as did God's words on the prophets . . .
I seized a stone and it melted in my hands. I overtook the soldiers and time overtook me.
And like a scared kitten, I cowered where a young Christ slumbered before carrying us on his back.

The third cheque:
Fear in the Levant.


I didn't believe I would ever learn to die

I didn't believe I would ever learn to die
I wasn't around when death was for free
But I was there when my maternal grandfather paid the price of cotton labourers' sweat that made his Ottoman suit
The price of bare miles to the women of Bosnia
The price of their tears on the chests of their men before the war
The price of God's banners
The price of the emperor's frivolousness and long-term sickness
Balkan blood dripped on my school shirt
The teachers found vows of vengeance in my backpack, and so fabricated chapters of history
Original Texts (excerpts):
لا تصدّقوني إن حدّثتكم عن الحرب
الصّك الأوّل:
في حشدٍ شديد الغموض، يمسني وضوحٌ فاجرٌ.
وسط هندسةٍ متقنةٍ لضوضاء الجغرافيا، تعبرني، بهدوءٍ، رصاصةٌ عند أسفل الظهر،
يزداد غموض الحشد، يُحكم إغلاق نوافذ الأذن من الداخل. الثقب طازجٌ كنبع ماء، الدمّ حارٌ كصوت أمي في الأغنية، ناعمٌ كجلد أبي.
الصّك الثاني:
حوصرت في أكثر بقع العالم قداسةً.. انهال عليّ رصاصٌ كما انهالت كلمات الرّب على الأنبياء..
قبضت على حجرٍ فسال من يدي. سبقت الجنود فسبقني الزمن. وحيثما غفى المسيح قبل أن يكبر ويحملنا على ظهره، انكمشت كقطّةٍ خائفة.
الصّك الثالث:
خوف في الشام.
لم أصدّق أنني سأتعلّم يومًا أن أموت* إمنيسكو
لم أصدّق أنني سأتعلّم يومًا أن أموت
لم أكن حيث كان الموت مجانيًّا
كنت حيث دفع جدّي لأمي ثمن عرق عاملي القطن الذي صنع بزّته العثمانيّة
ثمن أميالٍ حافية إلى نساء البوسنة
ثمن دموعهن على صدور رجالهنّ قبل الحرب
ثمن رايات الربّ
ثمن نزق الإمبراطور ومرضه الطويل
سال دم البلقان فوق قميصي المدرسيّ
وجد المدرّسون نذور الثأر في حقيبتي فزوّروا فصول التاريخ
Two poems by Trish Salah | قصيدتان بقلم تريش صالح
Translated by: Nayrouz Abu Hatoum
Project Description: An excerpt of a translation of two poems by Trish Salah to be published in Writing The Walls Down, a forthcoming anthology. The book is edited by Amir Rabiyah and Helen Klonari and published by Trans-Genre Press. (2015)
Translated Text:
قدّم البرج للصّحراء
في تحالُفِها معَ الحجارة:
تنْحني الأشجار لتنْطق الوداع
ببريقٍ من أوراقها السُفلى تُعلِنُ الورودُ الوداع
طرقٌ كالبرهة الزمنية، بين التنفس والكلمات تقول وداعها
جسدٌ يرتدي الأمل، يَهوي الى البريّة ليقول وداعاً
ذاك الورق عاشق الحبر، الأبجدية، الشعر
يقولُ وداعاً.
خيوطٌ شاردة، تقرأ، بكاءَ الوردْ
خاطرةٌ من الرشد،
خاطرةٌ من الصلاة.
إهداء لأبو سفيان عبد الرازق
مُعَلّقًا، أتتخيّل عودةً لمكان ما وُجوديّ؟
ما الوطن، وقد سافرتَ هذا البُعدَ مُحتَجزٌ في مكان ليس
بمكان، يقاربُ الواقع. أشواقُ، من خارج وحي دولةٍ متخيّلة؟
هي حياتُنا سفارةٌ لدولةٍ تحرِمنا الوطن.
حياةٌ - نعجز عن تصوّرها - معلّقة، في حصارِ الإرهاب، قانونٌ
إخفاقُ القانونِ، إرهابٌ مفصّلٌ لكَ كالجلدِ ترتديه.
Original Text:
Offer the Desert, the Tower
Taking sides with the stones:
Trees bow to say goodbye
Flowers open glow lower leaves to say goodbye
Roads like pauses, between the breathing and the words say
goodbye
A body dressed in hope, falls in the wilderness to say goodbye
The papers that love ink, the alphabet, the poem speaking
Say goodbye.
Fugitive threads, reading, the crying flowers
after thought of reason,
after thought of prayer.
--------
Poem for Abousfian Abdelrazik
Suspended, do you imagine return to a some where being?
What's home, having travelled this far held some where no
place, near real. Longing, an out from an imaginary state?
Living is the embassy of a country that denies you home.
Unimaginable life suspended, in the siege of a terror, law
( the failure of law), a terror you're allotted like skin to wear.

Links: http://trans-genre.net/trans-genre-press-forthcoming-writing-the-walls-down/
Syria's Lost Generation | جيل سوريا الضائع
Min Fami Excerpts | مقتطفات من فمي
Translated by: Yasmine Haj
Project Description: Excerpts from Min Fami: Arab Feminist Reflections on Identity, Space, and Resistance, edited by Ghadeer Malek and Ghaida Moussa and published by Innana Publications. The excerpts were translated by Yasmine Haj from English into Arabic for Assafir newspaper's supplement Palestine. (2014)
Translated Text:
أنا امرأة تثبّت قدميها على أرض دينيّة، وطنيّة، وأيديولوجيّة متذبذبة. التّشريد - حتى ذلك الإرادي، يجعل منا ناقصين، ويجبرنا على تشكيل هويّاتنا، بحيث تكون حقيقتنا غير تابعة لا لهذا العالم أو ذاك، ولكن للاثنين معًا، لأنهما، إثناهما، قد لمسا قلبنا. غالبًا ما أتساءل عن نفسي المحتملة في حال لم يهاجر أهلي إلى كندا؛ إن سألت والدي، كان سيجيبني بأنني كنت سأصبح امرأةً بلا حرّيّة الاختيار، تلك الحرّيّة الّتي كان من أجلها قد هاجر. وقد تقول أمّي بأنني كنت سأكون اليوم أمًّا سعيدة تحيا حياة خالية من حرّيّة الاختيار، ربما في محيط أكثر براءة.
أمّا أنا فأتخيّل نفسي جالـــسة بجانب البحر، أكتب رثاءً للبلدان البعيدة. سأتمنى أن أختبر ما أعيشه في هذه اللّحظة: توق إلى أغنية الشّتاء العنيفة على السّاحل الأوسطي في غزّة، ويداي الصّغيرتان مغروستان عميقاً في الرّمل لتصطادا اللاشيء».- مها زمّو (ص 22-23)
«في الآونة الأخيرة، يفهم الحيّز كمكان ذي قوّة وقوّة مضادّة. من يسيطر على المساحات التي نعيش، نعمل، وندرس فيها؟ المساحات الّتي نعبرها أو تعبرنا؟ القطاع العام والقطاع الخاص؛ الحيّز العالمي، الوطني، المجندر، المتخيّل، الخلاق، وذلك التابع للذاكرة؟ كيف تشكّلنا القوّة المتضمّنة قي خلق هذه المساحات والمحافظة عليها؟ إن كانت المساحات بجوهرها هي مواقع قوّة، هل بإمكاننا استيعابها كمساحات للمقاومة أيضًا؟ وهل مجرّد وجودنا بمساحة ما يقوّض وجودها؟». - غيدا موسى (ص 99).
«الأرض هنا محاطة ومخنوقة بالحدود. لكن عند ذكر اهتمامي بدراسة الحدود في إسرائيل، يجيبني البعض من الإسرائيليّين: «لكن لا توجد حدود لإسرائيل». ولطالما أثار هذا الجواب اهتمامي بحيث أنه يؤكّد من جديد على ضبابيّة التفريق بين حدود دولة إسرائيل المشيّدة بطرق سياسيّة أو عن طريق اتفاقيّات، وحدود مفروضة على المشهد الطّبيعي، أنتجها الوجود الإسرائيلي المستحكم، كما في احتلاله العسكري». - نيروز أبو حاطوم (ص 139).
Original Text:
"I am a woman with my feet firmly planted on shifting religious, national, and ideological lands. Displacement - even when voluntary - makes many of us not whole, forced to shape our own identities, our own realities not of one world or another, but of both worlds as they touch our hearts. I often wonder who I might have been had my parents not immigrated to Canada; were you to ask my father, he would say that I would have been a woman without choice, and my right to choose was the primary reason he immigrated. My mohter might tell you I would have been a happy mother now leading a life though devoid of choice, maybe much more innocent in its surroundings.
Me, I imagine that I would be sitting by the sea typing a lament for far off lands. Wishing to experience what I feel in this moment: a yen for the fierce winter song of the Mediterranean coastline in Gaza, with my little hands buried deep in the sand and coming up with nothing."- Maha Zimmo, P. 22-23
"Space has increasingly come to be understood as being a simultaneous site of power and counter-power. Who controls the spaces where we live, work, study; the spaces that we cross or that cross us; the spaces understood as public or private; the global space, the national space, the gendered space; the imaginative space, the creative space, the space of memory? How does the power involved in creating and maintaining these spaces shae us? If spaces are fundamentally sites of power, can they converseley be understood as places of resistance? Is our mere existence in certain spaces a subversion of those spaces?" - Ghaida Moussa, P. 99
"The land there is surrounded and suffocated with borders. Yet, when I mentioned my interests in studying borders in Israel, a few Israelis responded: "but Israel does not have borders." This answer has always intrigued me since it reaffirms the blurred distinction between Israel's state borders, produced through political processes or agreements, and borders imposed on the landscape, produced through forceful presence such as military occupation." - Nayrouz Abu Hatoum, P. 139
Links:
https://www.inanna.ca/index.php/catalog/min-fami-arab-feminist-reflections-identity-space-and-resistance/
http://palestine.assafir.com/Article.aspx?ChannelID=100&ArticleID=2905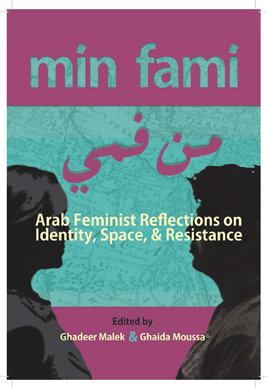 Rutas Festival Programme | برنامج مهرجان روتاس
Translated by: Serene Husni
Project Description: In an effort to reach out to the new Syrian community in Toronto, Aluna Theatre translated part of the programme of RUTAS panamericanas International Festival, presented in partnership with Native Earth Performing Arts. (2016)
Links: http://rutas.ca/
Translated Text:
مهرجان روتاس لوحدة القاراتين الأمريكيّتين العالمي للفنون الأدائية
من تقديم مسرح ألونا بالشراكة مع أرض السكان الأصليين للفنون الأدائية
أكتوبر ٥-١٦، ٢٠١٦
دانيلز سبكترم، ٥٨٥ شارع دنداس شرقاً
صندوق التذاكر: ١٤٠٢ ٥٣١ ٤١٦
rutas.ca
روتاس يجمع الفنانين والمجتمعات من حول القارتين الأمريكيّتين ليشهدوا، يجرّبوا ويحتفلوا بالتعددّية الغنيّة في هذا النّصف من الكوكب.
تتخلّل العروض:
آي إم شيفت
تصميم الرقص ومشاركة في التقديم لِ فيكترويا ماتا، من المؤهلين النّهائيين لجائزة مؤسسة تورنتو للفنانين الصاعدين، ٢٠١٦.
هذا العرض يسلّط الضوء على التجربة المتكرّرة لبناء الجسور بين الجنوب والشمال، وعلى تجربة العيش بين ثقافتين ولغتين من خلال قصص عن تضاريسنا التي أُعيد رسُمها، حيث تتداخل تعقيدات الهوية، والمقاومة، تضميد الجراح، والبقاء. هذا العرض تكريم للكثير مِن مَن لاقوا حتفهم في محاولة عبور "لا فرونتيرا" أو الحدود.
العروض: الجمعة ٧ أكتوبر، ٨:٣٠ مساءً | الأحد ٩أكتوبر، ٢:٠٠ ظهراً
ملاحظة: عرض راقص يتخلله القليل من الكلام المحكي.
- - -
موسيقى أدب الشتات ( بي كرنت، كندا/ الكاريبيان )
النص ورؤية الإنتاج لِ أهدري زينا ماندييل
في عام ١٩٩١، دشّنت بي كرنت أوّل إنشاء في العالم لهذا النوع من النص المسرحي المبني على موسيقى الدّب لِ أهدري زينا ماندييل. بمناسبة الذكرى السنوية ال ٢٥ لتأسيس هذه المؤسسة، ينضم المصور مايكل تشيمبر في إعادة تخيّل لهذا العرض الأدائي / التركيبي الذي يجمع ما بين الإيقاعات، التكرار الغنائي الدرامي، وشِعر الدّب، وبين تصميم حركات الرّقص. جزء استكشافي وآخر احتفالي، يُظهر هذا العرض قوى ورؤى النساء السوداوات.
عرض واحد فقط: الأحد ٩ أكتوبر، ٤:٠٠ عصراً
ملاحظة: باللغة الانجليزيّة. سيقوم الجمهور بالمشي حول المبنى خلال العرض.
- - -
جزئيّة غير معرّفة (لوكو ٧، نيويورك / كولومبيا)
تصوّر واقتباس لِ فريدريكو ريستريبو ودنيس جريبر
الشركة المرموقة دولياً لوكو ٧ تقدّم "جزئيّة غير معرّفة"، مسرح دمى وعرض راقص أُنشئ استجابة لمسرحيّة الحياة حلم بقلم بيدرو كالديرون دي لا باركا. من خلال مشاهد صوريّة مذهلة، يتتبّع هذا العمل أنماط اللامساواة، ويتفكّر في مبادئ العدالة، والشعور بالذنب، والعقاب والصراع بين الإرادة الحرّة والقدر. هل "العالم الحقيقي" في الواقع نوعٌ من الوهم، أو حلمٌ سنستيقظ منه في يوم من الأيام؟
العروض: الخميس ١٣ أكتوبر، ٧:٠٠ مساءً | السبت ١٥ أكتوبر، ٨:٠٠ مساءً، الأحد ١٦ أكتوبر، ٢:٣٠ ظهراً
ملاحظة: عرض صديق للعائلات، مقدّم بالانجليزيّة مع تركيز على الدمى، الحركة، والموسيقى.
- - -
إذا عَلِمَ الصمت (مسرح ديل راديسي، سويسرا/ /الأرجنتين )
تصوّر، أداء وإخراج كريستينا كاستريو الفائزة بجائزة المسرح السويسري
تفتخر كاستريو اليوم بأكثر من أربعة عقود من التفاني في المسرح المحترف منذ تأسيس ليبر تياترو ليبر في السبعينيات، وهي أحدى أهم الشركات الأمريكية اللاتينية وأكثرها شهرة في الأرجنتين، وحتى ولادة تياترو ديلي راديسي في سويسرا عام ١٩٨٠. إذا عَلِمَ الصمت هو عرض مونودرامي صامت، باستثناء كلمة واحدة، يحمل بصمة تقنية تركّز على التعبير من خلال الجسد. يجمع العرض ما بين الصمت والموسيقى لخلق لحظات من الشاعرية المسرحية المكثّفة. عندما تصبح اللغة مضلّلة، يتواجد الجسد والاستعارة لإيجاد المنطق. كريستينا تستحضر هذا الكون، لخلق عمل منفرد شخصي جدّاً، ولكن بلا شك ذو طابع سياسي وشُمولي.
العروض: الخميس ١٣ أكتوبر، ٨:٣٠ مساءً | الجمعة ١٤ أكتوبر، ٧:٠٠ مساءً | السبت ١٥ أكتوبر ٦:٠٠ مساءً
ملاحظة: عمل حركة / رقص. فيه كلمة واحدة بالانكليزية.
- -
يوم الأحد ٩ أوكتوبر من الساعة ١٢:٠٠- ١:٣٠ ظهراً في دانييلز سبكترم (٥٨٥ شارع دنداس شرقاً)، سنقيم غذاءً
احتفاليّاً ومجّانيّ يجتمع فيه الكنديون الجّدد، بالسكان الأصليين، والمستوطنين لمشاركة الطعام في هذا المكان الذي نسكن فيه سويّةً. سمّينا الفعالية "يوم الشتات وجبة اجتماعيّة"، حيث نستعمل الطعام كوسيلة للاتصال فيما بيننا وللإحتفاء بهذه الأرض، وبسكّانها الأصليين لمقاومتهم للاستعمار ولصنعهم للسلام. سيقوم أعضاء من السكان الأصليين بافتتاح الفعاليّة، وستكون هناك المحادثات، الموسيقى وصناعة الفنون المجتمعيّة، لذى نتمنّى أن تشاركونا حضوركم! سيكون هناك مترجم(ة) ومتحدّث(ة) باللغة العربيّة على الأقل (ونعمل على جلب مترجم(ة) آخر(ى).) نرحب بأي مترجمين تودّون إحضارهم معكم. الموقع يمكن الوصول إليه عن طريق الكراسي المتحرّكة.

Original Text:
RUTAS panamericanas International Performing Arts Festival
presented by Aluna Theatre in partnership with Native Earth Performing Arts
October 5 – 16, 2016
Daniels Spectrum, 585 Dundas St. East
Box office: 416.531.1402
rutas.ca
RUTAS gathers artists and communities from across the Americas to witness, experience and celebrate the rich diversity of our hemisphere.
Performances include:
ImShift
Choreographed and co-created by Victoria Mata, finalist of the Toronto Foundation's Emerging Award, 2016
This piece highlights the constant experience of bridging the South and the North, of living in the in between of two cultures and two languages through stories of our re-created terrain where complexities of identity, resistance, healing and survival exist within each other. A tribute to the many who have died attempting to cross 'la frontera.'
Performances: Fri Oct 7, 8.30pm | Sun Oct 9, 2pm
Notes: Dance piece. Minimal text spoken.
- - -
diaspora Dub (b current, Canada / The Caribbean)
Script and production vision by ahdri zhina mandiela
In 1991, b current launched with the world's first mounting of this dub theatre script by Ahdri Zhina Mandiela. As part of its 25th anniversary, photographer Michael Chamber joins in this re-imagining performance/ installation that combines the rhythms and dramatic choral repetitions of dub poetry with choreographed movement. Part exploration and part celebration, the show wonderfully evokes black women's power and insights.
One performance only: Sun Oct 9, 4pm
Notes: English language. Audience will be walking around the building during the performance.
- - -
Undefined Fraction (Loco 7, New York / Colombia)
Conceived and adapted by Federico Restrepo and Denise Greber
Internationally acclaimed company Loco 7 presents Undefined Fraction, a puppet theatre dance piece created in response toPedro Calderón de la Barca's Life's a Dream. Through stunning visuals, the piece traces patterns of inequality and reflects on the principles of justice, guilt, punishment and the conflict between free will and fate. Is the "real world" actually some sort of illusion, a dream from which we will some day awake?
Performances: Thurs Oct 13, 7pm | Sat Oct 15, 8pm | Sun Oct 16, 2.30pm
Notes: Family friendly, performed in English, but with emphasis on puppetry, movement and music
- - -
If Silence Knew (Teatro delle Radici, Switzerland / Argentina)
Created, Performed and Directed by Cristina Castrillo
Winner of the Swiss Theatre Award
From the foundation in the seventies of Libre Teatro Libre, one of the most famous Latin American companies in Argentina, to the birth of the Teatro delle Radici in Switzerland in 1980, Castrillo now boasts over four decades of dedication to professional theatre. If Silence Knew is a one-woman show without words, except for one, bearing the imprint of a technique focused on the expressions from the actor's body. The show subtly combines silence and music to create moments of intense theatrical poetry. When language becomes misleading, the body and the metaphor exist to create sense. Cristina invokes this universe to create a solo work that feels very personal but reaches, without doubt, a political and universal nature.
Performances: Thurs Oct 13, 8.30pm | Fri Oct 14, 7pm | Sat Oct 15, 6pm
Notes: Movement / dance piece. A single word of English text is spoken.
--
"On Sunday October 9th from 12 - 1:30 pm at Daniel's Spectrum (585 Dundas St. East), we're hosting a free celebratory lunch where New Canadians, Indigenous folks, and settlers can gather to share food, as we share this place where we live together. We're calling it the Day of Diaspora Community Meal, and we are using food to gather and honour this land, celebrate Indigenous resistance and peacemaking, and connect with each other. The event will be opened by members of the First Nations community. There will also be conversation, music and community art making, so I hope you can join us! There will be at least one Arabic interpreter present (we're working on confirming another), and you're more than welcome to bring your own interpreter(s) as well. The location is wheelchair accessible."
Twelve Palestines | إثنتا عشر فلسطين
Translated By: Yasmine Haj
Project Description: Twelve Palestines is an independent feature documentary about the social conditions inside the Palestinian refugee camps in Lebanon. The film (in production) is directed by Anastasia Trofimova and subtitled from Arabic into English by Yasmine Haj.
 
What next for the youth of Palestine | شباب فلسطين إلى أين
Wiam Wahhab on Palestinians in Lebanon | وئام وهاب عن الفلسطينيّين في لبنان
Of Obliteration and Construction | عن المحو والإنشاء
Translated by: Yasmine Haj
Project Description: Excerpts from "Of Obliteration and Construction", a study by Honaida Ghanim which explores the policy adopted by the Zionist movement and later Israel in the process of dispossessing Palestinians and expelling them from their homeland, both systematically and intentionally. Ghanim uses the concept of "obliteration" to describe this process, which Ghanim also contextualizes biblically: the curse of "may his name and memory be obliterated". The article, originally published in Arabic in the 96th Issue of Palestine Studies, was translated by Yasmine Haj into English (forthcoming).
Translated Text:
The curse of "Yimah Shemo Ve Zikhro," which literally means, "may his name and memory be obliterated," could be one of the cruellest curses in the Hebrew language. It is mainly placed upon mortal non-Jewish (goy) enemies; to place it upon a Jewish traitor would require a religious legal judgment. According to some historians, the etymology of this curse goes back to Purim, an annual celebration the Jewish people held to commemorate their deliverance from a conspiracy of obliteration, plotted against them by Haman in the Ancient Persian Empire. The curse is placed each time his name is mentioned. Later on, the curse would be placed on all enemies of the Jewish people, and even on Jews who worked against the interest of their own people.

The power and intensity of this curse lie within the duality it aims to achieve upon placement: the obliteration of both name and memory: the sayings "may you die," "may God take you," or even "may your name be obliterated," cannot be equated with "may your name and memory be obliterated." It wishes not only the name to be erased, but also its mention, along with its memory and remembrance. A person devoid of a name will be a nobody, but a person devoid of both name and mention will not be: Hokus Pokus, the curser places his curse and turns the cursed into a void.

Original Text:
قد تكون لعنة "يماح شمو فزخرو"، والتي تعني حرفياً "ليُمحَ اسمه وذكره"، إحدى أشد اللعنات قسوة في اللغة العبرية، إذ لا تُطلق في العادة إلاّ على ألدّ أعداء الشعب اليهودي من الأغيار، بينما يتطلب إطلاقها على اليهودي/ ة الذي تُنسب إليه تهم كبرى كالخيانة القومية، فتوى دينية. ويعود استخدام هذه اللعنة، كما يعتقد بعض المؤرخين، إلى احتفال عيد المساخر الذي يحتفل فيه اليهود سنوياً بالنجاة من مؤامرة الإبادة التي حاك خيوطها هامان في إمبراطورية فارس القديمة، إذ تُذكر اللعنة في كل مرة يأتي ذكر هامان. ولاحقاً صارت اللعنة تُطلق على جميع أعداء الشعب، بل على اليهود الذين يعملون ضد مصلحة الشعب.
وتكمن قوة اللعنة هذه وشدّتها في متلازمة المفعول المزدوج الذي تريد أن تحققه بمجرد إطلاقها، وهو محو الاسم والذكر معاً. فالقول: "لتمت"، أو "ليأخذك الله"،
أو حتى "ليُمحَ اسمك"، لا يستوي مع القول: "ليُمحَ اسمك وذكرك"، إذ ليس الاسم وحده ما يراد محوه، بل "الذكر" على ما يستدعيه طبعاً من ذاكرة وتذكّر وذكريات. فالشخص بلا اسم "يكون" نكرة، أمّا بلا اسم وبلا ذكر ف "لا يكون": "أبراكادابرا" يرمي اللاعِن لعنته على الشيء فيحيله إلى فراغ.

Links:
http://www.palestine-studies.org/sites/default/files/mdf-articles/11856.pdf

http://www.palestine-studies.org/ar/mdf/abstract/89706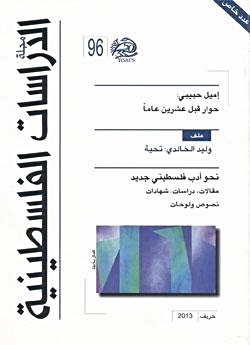 Palestine Studies, Issue 96